Raja Yoga Foundations: Yamas and Niyamas
with Swami Jnaneswariananda
September 29 - October 4, 2019
Description
The 5-day Raja Yoga Foundations: Yamas and Niyamas course introduces the Yogic ethical guidelines for conscious self-development summarized by Patanjali Maharishi that address the root-cause of our suffering. This course teaches counselors and therapists in Yoga psychology in order to lead people to consciously correct the course of their actions bringing peace of mind. Therapists learn to guide people to guard themselves not to misbehave, thus repeating patterns leading to suffering; and on the other side, counsel people to actively cultivating positive attitudes and helpful conduct.
These behavioral guidelines will lead to changes in thinking, thus reducing stress and disease, and make the mind more calm and the perception more clear about self and others, bringing us closer to Self-realization.
These are universal guidelines that, if followed, will improve our lives in the long term and help remove obstacles stemming from our karmic tendencies, character defects, and bad habits.
Students will better understand the causes of anger, fear, lust, jealousy and envy, greed and how to practice ahimsa, satya, brahmacharya, asteya and aparigraha. There will be discussion on the reasons to practice self-discipline, sublimation of sexual energy, devotional practices, purification, contentment, austerity, self-study, and self-surrender.
Daily Schedule
6-8am Satsang: Silent meditation, chanting and lecture
8-10am Beginners Yoga Class
10am Brunch
11am Karma Yoga
1-3pm Yamas & Niyamas Workshop
3-4pm Free Time and Nature walks
4-6pm Open Yoga Class
6pm Dinner
7-8pm Free Time
8-10pm Satsang: meditation, chanting and lecture
Pre-requisite
There are no prerequisites other than a sincere desire to learn classical yoga.
Teacher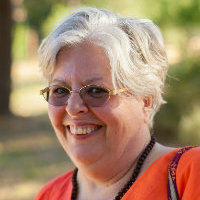 Swami Jnaneswariananda
Swami Jnaneswariananda joined the Sivananda Yoga Vedanta Centers in 1995 and has been director of centers and ashrams in Canada and Italy. She teaches Hatha Yoga, Meditation, Anatomy, and Vedanta at Teacher Training Courses in North America, Italy and India.…
Learn more about Swami Jnaneswariananda