Yoga Holistic Health Retreat – Chair Yoga Weekend
with Swami Sivasankariananda
December 20 - 22, 2019
Description
Every body can do yoga. Chair Yoga is safe and effective for all ages and levels of health and ability. It tends to be a gentler (and fun) class designed for those with an acute or chronic illness, healing from an injury, or with limited mobility. Practicing Yoga in a chair can be beneficial for:
increasing flexibility and relieving stiffness.
improving balance.
building body awareness and overall muscular strength.
building bone strength.
improving concentration and motivation/determination.
increasing energy and stamina/endurance.
developing confidence.
improving willpower and maintaining a healthy weight.
minimizing anxiety and hypertension.
fostering a positive attitude.
enjoying a sense of community.
 Classes includes focus on quality of breath and centering, breathing exercise for balancing energy, gentle warm-up stretching coordinating with the breath, followed by modifications of yoga poses appropriate for the level and goals of the participant. Classes are taught sitting in chairs (or wheelchairs) or using chairs as props.
Daily Schedule
6-8am   Satsang: Silent meditation, chanting and lecture
8-10am  Chair Yoga class
10am      Brunch
11am      Karma Yoga
1-3pm   Yoga Health Workshop
4-6pm  Chair Yoga class
6pm       Dinner
7-8pm   Free Time
8-10pm Satsang: meditation, chanting and lecture
Teacher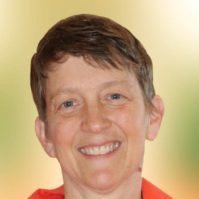 Swami Sivasankariananda
Swami Sivasankariananda, director of the Los Angeles Sivananda Yoga Vedanta Center, served as director of the San Francisco Center from February of 2015 to September 2019. She returns to LA where she lived for 20+ years. She completed her TTC at the Yoga Farm in 1997 and ATTC there…
Learn more about Swami Sivasankariananda