Yoga of Relationships
with Omkara
November 4 - 6, 2022
Why do we need to practice the Yoga of Relationships?  In all our relationships, we aspire to be loved and to love all the time and 100% but we fail to feel the 100% all the time. We suffer from needs unmet, separation, losses, anxiety, disappointments, inner and outer conflicts, difficulty in communications, lack of empathy and compassion, resentments and anger, attraction– repulsion, emotional swings and also suffer from the paradox of wanting to lose oneself in love and yet wanting to be in control. The problem is between Self and Others and how to find ourselves through relationships?
In this course we will address the question of how to be with ourselves and be happy no matter the outside interpersonal conditions and collective conditions (social distancing, be in isolation or working with groups, living with families and community, in intimate relationship, being alone or in search of close relationships). We will discuss strategies how to transform our negative emotional patterns into selfless love through the practice of Yoga applied in daily life. We will also discuss the Yogic way of how to uplift and spiritualize our relationships.
Daily Schedule
6 am      Satsang: Silent meditation, chanting and lecture
8am        Adapted Asana Class for Stress Relief
10am        Brunch
12-1pm     Meeting with Teacher
2-330pm Yoga of Relationships
4-5pm      Yoga of Relationships/Meditation/Relaxation Class
6 pm –     Vegetarian Dinner
7:30 pm – Satsang: meditation, chanting and lecture (optional)
Pre-requisite
There are no prerequisites other than a sincere desire to learn classical yoga.
ARRIVAL & DEPARTURE
Arrival: Check-in time is 2:00pm. We encourage you to arrive by 4:00pm for the Asana class. Dinner is at 6:00pm and there will be a Welcoming Orientation at 7:00pm followed by Satsang at 7:30pm.
Departure: Check-out time is 12:00pm. You are welcome to stay in the ashram for the rest of the afternoon even after checking out of your room.
COURSE MATERIAL
"Essentials of Yoga Practice & Philosophy" by Swami Sitaramananda
WHAT TO BRING
slip on shoes, loose comfortable clothing, writing materials, meditation shawl or blanket, yoga mat, sitting cushion, water bottle, and, flashlight. All books and materials are available to order from our online boutique. (we will not have yoga mat and cushions available so please bring your own)
COVID POLICY
Please review our Covid-19 Policies before registering.
REGISTRATION
Registration is required at least 3 day before the start of the program. We will arrange an online video call with all guests once you register to review our covid policy.
Teacher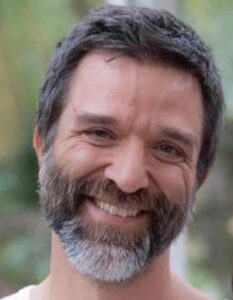 Omkara
Omkara is an experienced Sivananda yoga teacher since 2012 and a therapist and healer with diverse skills. He is a Sivananda Yoga Health Educator 800 hours accredited by International Association Yoga Therapists IAYT in training.
Learn more about Omkara