Positive Thinking for Spiritual Renewal
with Swami Hamsananda
February 21 - 26, 2023
Description
Renew your Spirit and your outlook on life with the ancient tools of Yoga. Learn practical Yoga techniques to open your heart, to generate positive thought patterns and to overcome negative tendencies.  In the rush of life, it is difficult for us to access our innate positive and joyful nature that is eternal and always present within us. The Positive Thinking course delivers practical Yoga tools to recharge and reconnect with the beauty and meaning of your life. We cannot change the external but we can change our outlook towards it.
We cannot rewrite the past and it is not helpful to worry about the future, but we can live in the solid present and recognize this moment is a golden opportunity for Self-knowledge and Spiritual growth. Workshops and lectures specifically on the power of thought, how to live in the present, and how to turn negative feelings and thoughts to positive feelings and positive actions, how to manage stress and respond positively to challenges.
Curriculum
    Four paths of Yoga in response to negative emotions
    Thought Power
    Heart intelligence
    Meditation
    Yoga asanas
    Pranayama
    How to manage stress, anger and fear
Daily Schedule
6-8am Satsang: Silent meditation, chanting and lecture
8-10am Yoga Class
10am Brunch
11am Karma Yoga
1-3pm Positive Thinking Workshop
3-4pm Free Time and Nature walks
4-6pm Open Yoga Class
6pm Dinner
7-8pm Free Time
8-10pm Satsang: meditation, chanting and lecture
Pre-requisite
There are no prerequisites other than a sincere desire to learn classical yoga.
Course Material
"Essentials of Yoga Practice & Philosophy" by Swami Sitaramananda
"Positive Thinking Pamphlet" by Swami Sitaramananda
Teacher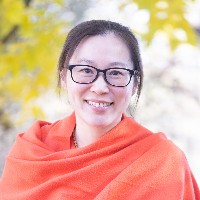 Swami Hamsananda
Swami Hamsananda is a senior staff teacher at the Yoga Farm, taking TTC in 2010 and Advanced TTC in 2014. Swami Hamsananda took Brahmacharya vows in 2014 and sannyas in 2022.  She graduated from the the Sivananda Yoga Health Educator Training in 2019 and is a Certified Yoga…
Learn more about Swami Hamsananda