Holistic Health Retreat: Positive Thinking for Optimum Health
with Radha (Debbie Desrochers)
April 18 - 23, 2023
Description
Renew your outlook on life with the ancient tools of Yoga. Learn practical and accessible Yoga techniques to open the heart, to generate positive thought patterns and to overcome negative tendencies.  In this atmosphere, it is difficult for us to access our innate positive and joyful nature, and to remember the goodness of human beings and the grace of God. The Positive Thinking course delivers practical Yoga tools to recharge and reconnect with the beauty and meaning of your life. We can not change the external but we can change our outlook towards it.
We cannot rewrite the past and it is not helpful to worry about the future, but we can live in the solid present and recognize this moment as golden opportunity. Workshops and lectures specifically on the power of thought, how to live in the present, and how to turn negative feelings and thoughts to positive feelings and positive actions, how to manage stress and respond positively to challenges. Yoga psychology and philosophy have a wealth of techniques and information that will help us to cope with this fast-paced modern living and changing conditions.
The team of SIHY's Yoga Health Educators and Nutrition Service will guide you to make these decisions with knowledge and confidence. Patients would leave our workshops feeling empowered, and knowing what to do to incorporate their treatment plan and Yoga lifestyle.
Daily Schedule
6-8am   Satsang: Silent meditation, chanting and lecture
8-10am  Special Yoga therapeutic class – adapted to condition
10am      Brunch
11am      Karma Yoga
1-3pm   Yoga Health Workshop
3-4pm   Free Time and Nature walks
4-6pm   Special Yoga therapeutic class – adapted to condition
6pm       Dinner
7-8pm   Free Time
8-10pm Satsang: meditation, chanting and lecture
Workshops
1. Yogic and Ayurvedic Healthy Lifestyle
2. Yoga and Diabetes Management
3. Stress Management, Self-care and Positive Thinking techniques
4. Anti Diabetic Nutrition and Cooking
5. Self-affirmation, emotional intelligence and Meditation
Teacher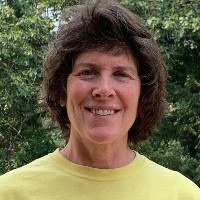 Radha (Debbie Desrochers)
Radha (Debbie Desrochers) has been coming to the Yoga Farm since the late 90's. After retiring from a profession of teaching engineering and mathematics, she now teaches yoga, meditation, positive thinking, and stress management and holds spiritual gatherings at her home in Mt. Shasta, CA and here at…
Learn more about Radha (Debbie Desrochers)