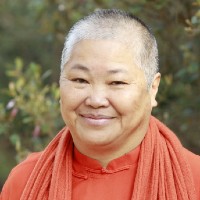 Swami Sitaramananda
 is a senior acharya of the
 International Sivananda Yoga Vedanta Centers 
and is director of the 
Sivananda Ashram Vedanta Yoga Farm,
 California and the
 Sivananda Yoga Resort and Training Center,
 Vietnam.  She is acharya of China, Taiwan, and Japan as well. Swamiji is the organizer and teacher of the 
Sivananda Yoga Health Educator Training (SYHET) 
program, an 800-hour program on yoga therapy, accredited by the 
International Association of Yoga Therapists (IAYT)
.
Swami Sitaramananda is the author of "Essentials of Yoga Practice and Philosophy" (translated in Chinese, Japanese, Vietnamese, and Russian), "Positive Thinking Manual", "Karma Yoga Manual", "Meditation Manual", "Swamiji Said, a collection of teachings by Swami Vishnu" in His Own Words. She is responsible for the Vietnamese translation of "Completed Illustrated Book of Yoga" (CIBY) and "Meditation & Mantras" by Swami Vishnu. Many of her video & audio lectures on Yoga life, philosophy, and psychology as well as articles and webinars can be found on this website.
Swami Sita is an ardent supporter of the integration of the Vedic sciences such as Vastu, Jyotish, Ayurveda, Yoga and Vedanta. She is an international teacher of the Sivananda Yoga Teachers' Training Courses and Advanced Yoga teachers' Training courses, as well as Meditation and Vedanta & Silence Courses both in Sivananda Ashrams in Vietnam and in Grass Valley, CA.
Events with Swami Sitaramananda