Yoga Nidra: Graceful Transitions Teacher Training
with Dr. Andrea Deerheart
September 23, 2019
Details
Yoga Nidra the art of conscious deep relaxation awakens a return of intimacy, reverence, and sanctity to dying and death by offering an accessible means to transcend fears and inspire peace, love, and compassion. Death commands awe, terror, and fascination with the human encounter with the divine. Yoga Nidra: Graceful Transitions is supportive in managing pain, anxiety, and cultivating spiritual serenity.
This course is an add-on program to CCA Yoga Nidra Teacher Training. During this one-day course, students will experience Yoga Nidra: Graceful Transitions and learn how to teach it to others that are experiencing fear of death, a life-threatening disease, terminal illness, or nearing the end of their life. Topics covered include Contemporary End of life Paradigms, fear of death, practice and the practical applications of Yoga Nidra: Graceful Transitions.
Schedule
8:00-8:30am Sacred Space Centering
8:30-9:00am. The HeartWay and the Journey of a Death Doula
9:30-10:00am. Your Journey with Death and the Call to this Dharma
10:00-11:30am. Break
11:30-12: 15am. Introduction to End of life Myths, Environments, and Paradigms.
12:15-1:00pmpm. The Practice of Yoga Nidra with Dr. Deerheart
1:00-1:30pm. Discussion Q & A
1:30- 2:00pm. What to expect at the end of life?
2:00-2:30pm. How to teach Yoga Nidra: Graceful Transitions/Discussing the Script
2:30- 4:00pm. Students teach each other
4:00-5:00pm. Discussion
5:00- 5:30pm. Bringing YN:GT to Market
5:30-6:00pm. Closing Discussion & Certificate Ceremony
Recommended/required texts
All books and materials are available in our boutique.
What to Bring
slip on shoes, loose comfortable clothing, writing materials, meditation shawl or blanket, yoga mat, flashlight.
All books and materials are available in our boutique.
Teacher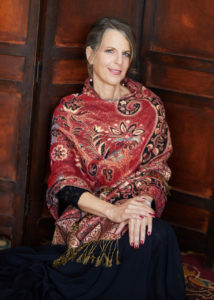 Dr. Andrea Deerheart
Dr. Andrea Deerheart  ("Deerheart")  is the passionate founder of The HeartWay, a non-profit foundation dedicated to Embracing life and Honoring Death. Using wisdom gathered from decades of guiding the living and dying; physically, emotionally and spiritually, Deerheart has provided loving…
Learn more about Dr. Andrea Deerheart