Fundamentals of Vedic Healing Architecture (Vaastu Shastra)
with Olga Mandodari Sokolova
October 13 - 15, 2019
Introduction
"Do you know that you are on the molecular level 99.99% "Empty" Space? You have very little actual matter in you and you have much more Space between the spinning electrons and protons that compose your molecular structure.  Do you know that our scientists calculated the approximate mass of our Universe and found that almost 85% of the mass is missing? Scientists call it "dark matter" and are still trying to figure out what the "dark matter" is. Is it an intergalactic medium called filaments or brown dwarfs or something else?
Would you like to know from the position of Vaastu Shastra more about "empty space"? If you do then you will find in detail that the "empty space" is not empty at all. You will find that the "dark matter" is described as a specific subtle light energy in ancient shastras and you will know much more details about that.  You will know that the subtle light energy is vibrating and pulsating and by doing that it organizes specific energy patterns called Mandalas in the space around us and in us too! Do you know that you need to align your house and your bed with the grid of energy to be more at peace with the environment because you are 99.99% light energy? Do you know that yoga can teach you how to synchronize yourself with the Cosmic Energy? All that you can learn at Sivananda Ashram's classes and workshops and at Vaastu Shastra.workshop."
Vaastu Shastra and Good Sleep
Understanding principles of the structure of our Universe is understanding yourself. Science by now already knows that we are more than 99% "empty" space. We are made of atoms and atoms are composed of protons, neutrons, electrons, and "empty" space. This is what science is saying but ancient Vedic scriptures like Vaastu Shastra saying that space is not empty but filled with the subtle energy. This subtle energy is made of Particles of subtle light and sound called Paramanu as mentioned earlier. So this NOT an empty space! This space  or field of energy is actually giving its own energy to everything around us.
Moreover, this subtle (invisible to the naked eye) energy field is not something abstract but according to Vedanta is the consciousnesses by itself. It vibrates, pulsates and emanates subtle light and subtle sound which allows different material particles to appear to in the front of our eyes in the electronic microscopes. There are definite laws of existence, laws of movement of energy (spinning, flowing), laws of manifestation of particles and overall all laws of appearance of all material forms. There are rivers of subtle energy in the space. We need to know about these rules. Vedatna and specifically Vaastu Shastra has a lot to share with you. So we can help ourselves to live our life better and with more joy. Believe or not but if you know at list some basics how great Space-Consciousness works then you can live happier and healthier life. For example, Swami Sivananda in his book "How to Get SOUND SLEEP" on page 36 mentioned, "Sleep with your head toward East. Do not sleep with your head towards North. You can sleep with your head towards West and South."
Would you like to know why it is recommended to sleep toward East? Watch this video and if you want to know more details about why you need to sleep toward East. Or may be you want to learn how to organize better your space at home and much more then you can also sign up for the upcoming Vaastu Shastra workshop in July at Grass Valley Yoga Farm, Grass Valley, California,
Have a nice sound sleep and very productive day!
Description
By understanding how healing architecture creates balance between the living energies of people and nature, you can make change that positively affects your health, prosperity, and spiritual bliss.
This course is dedicated to the devoted teacher, Padma Bhushan Dr. V. Sthapati Ganapati.
Re-discover the ancient science of Sthapatya Veda and Vaastu Shastra through the teachings of Brahmarishi Mayan. By understanding how healing architecture creates balance between the living energies of people and nature, you can make change that positively affects your health, prosperity, and spiritual bliss.
An eye-opening Vaastu Shastra course, focused on residential architecture and design, will be presented in the form of an interactive lecture full of in-session exercises and discussions. The course  will present and further clarify complex concepts with slides, audio, and movie clips.
No prerequisites are necessary for this course and it is open both to professional architects as well as a laymen.
Schedule:
October 13 – Arrival
October 14
6:00 AM 7:30 AM Vastu Mandodari 1.5
8:00 AM 10:00 AM Vastu Mandodari 2
12:00 PM 3:00 PM Vastu Mandodari 3
October 15
6:00 AM 7:30 AM Vastu Mandodari 1.5
8:00 AM 10:00 AM Vastu Mandodari 2
11:00 AM 2:30 PM Vastu Mandodari 2.5
Recommended Books
by Dr. Ganapati Sthapati:
1. Building Architecture of Sthapatya Veda (400 pages) – this is a "bible" for Vaastu design and construction.
2. Building Architecture of Sthapatya Veda, Illustrations Volume II (126 pages)
3. Shilpi Speaks series – 18 Vaastu Purusha Mandala (49 pages)
4. 'Shilpi Speaks' Series No. I An Overview of Mayonic Aintiram (16 pages)
5. Mono Science and Technology of Mayonic Origin – Ayadi Calculations (42 pages)
6. Key Notes on Mayonic Science and Technology of Indian Origin (109 pages)
Testimonials
Olga is an extraordinary teacher of Vaastu, with great enthusiasm and power of conviction coming from her inheriting of the shakti of her divine teacher and guru, Dr. Ganapati Stapathi, a most renown divine architect of India and the world. The science of Vaastu not only helps you practically to know how to improve your space and your environment, but also to open your awareness to the mystery of the universe and feel the grace to be part of the breath of life. —Swami Sitaramananda, Director of the Sivananda Ashram Yoga Farm
In twelve hours, we went from the creation of the universe to how to create living space in harmony with this universe. Amazing. —Hara Mahadeva/Mike Hutchinson, engineer and builder, Grass Valley, CA
Olga Mandodari Sokolova's Vaastu course brings another extraordinary proof that spirituality and science are one indissoluble union. It's a true blessing to keep discovering this truth and I am grateful to Mandodari for sharing these priceless teachings. —Bharata/Javier Lopez, Ayurveda practitioner, Grass Valley, CA
This course gave me a renewed awareness of the need to bring consciousness of our essential nature into the world we live in, both in our intentions and into our relationship to our physical environment. —Mark D., architect, Nevada City, CA
It is important to learn a technique on how to alter our living surrounding to nurture not only a healthy life but for positive spiritual growth and harmony with natural surrounding and living space. This is important knowledge for everyone. Thank you Dr. Ganapati Sthapati for training a teacher such as Olga Mandodari Sokolova to spread this ancient wisdom of space. —Sankara/Clement Lam, Yoga teacher and Yoga therapist, Vancouver Islands, Canada
What made the most impact on me was the spiritual aspect and vastness of Vaastu, going back so many thousands of years and how important it is to reflect the universal laws of nature and the cosmos in our homes, cities, and world for lasting peace. —Elise Mahesh, Dallas, TX
Amazing to have access to this ancient teaching through such a sincere, passionate teacher conveying wisdom learned from her esteemed guru. It gave me insights into yantra painting. It expanded my thinking. I love how the concepts of Vaastu Shastra connect with yoga philosophy. I love to see that opening awareness to the spaces we frequent—and seeing them as alive—changes our relationship to them. Can't wait for more. —Rajeshwari/Agnes Anderson, Graphic designer and Yoga teacher, Los Angeles, CA
Arrival and Departure
Arrival is Sunday, November 10, and the course will conclude Tuesday, November 12th and 2:30pm.
Teacher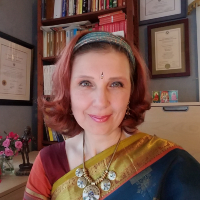 Olga Mandodari Sokolova
Olga Mandodari Sokolova, is a certified Vaastu Shastra Consultant. She studied at the International Institute of Mayonic Science & Technology in Chennai, India under Dr. V. Sthapati Ganapati, a world renowned traditional architect of Southern India who relies on Vaastu principles in his projects. Ms. Sokolova earned her…
Learn more about Olga Mandodari Sokolova