Yoga for Anger Management
with Swami Jnaneswariananda
January 19 - 24, 2020
Description
Anger is one of the most common and destructive emotions of the mind. Anger may give us a sense of power, but it undermines the  happiness we find with ourselves and with others.
In this 5 day course we will look and the reasons for anger, how to manage the emotion when it arises and, finally, how to conquer the root of anger and change our habits of reacting into a habit of responding constructively to trying  situations. This is not a course of anger repression, but of applying classical yogic techniques to master the unsteady mind and find freedom from undisciplined emotions.
Topics
The Nature of the Mind
Forms of Anger: from Frowning to Wrath
Relief from Suffering
Strategies for Dealing with Anger
Antidotes to Anger: Practice of Patience, Forgiveness, Acceptance
Techniques to Conquer Anger: Breathing, Listening, Relaxation, Meditation
Recommended Texts
"Conquest of Anger by Swami Sivananda (available for free at www.dlshq.org/download/anger.pdf)
"Essentials of Yoga Practices" by Swami Sitaramananda
Pre-requisite
There are no prerequisites other than a sincere desire to learn.
Teacher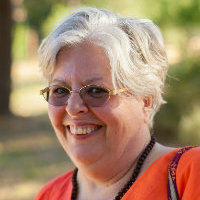 Swami Jnaneswariananda
Swami Jnaneswariananda joined the Sivananda Yoga Vedanta Centers in 1995 and has been director of centers and ashrams in Canada and Italy. She teaches Hatha Yoga, Meditation, Anatomy, and Vedanta at Teacher Training Courses in North America, Italy and India. Swami Jnaneswariananda took vows of Sannyas in 2001.…
Learn more about Swami Jnaneswariananda