Online International Satsangs with Swami Sitaramananda
with Swami Sitaramananda
Open Dates
Swami Sitaramananda and other swamis have been offering regular Online Satsangs for the past 4 years.
The satsangs will now be held on Wednsedays at 3 pm PT.
You can join directly with the zoom link here.
If you would like to – you can register on this page and make a donation.
For access to previous satsang talks, some are listed here and for more you can visit our Swami Sita archive page.
Teacher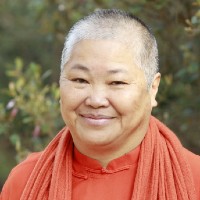 Swami Sitaramananda
Swami Sitaramananda is a senior acharya of the International Sivananda Yoga Vedanta Centers and is director of the Sivananda Ashram Vedanta Yoga Farm, California and the Sivananda Yoga Resort and Training Center, Vietnam.  She is acharya of China, Taiwan, and Japan as well. Swamiji is the organizer and teacher of the Sivananda Yoga Health Educator Training…
Learn more about Swami Sitaramananda