This time of the year, colds are common in people. Symptoms include runny nose, cough, congestion, headache, drowsiness, and an achy body. In Ayurveda, colds are viewed as a kapha and vata disorder. Kapha is due to the congestion qualities (cool, moist properties in excess) along with high vat, manifesting as a decreased appetite, chills and body aches.
Here are 6 tips to deal with a cold according to Ayurveda:
Rest – slow down and give your body the time to heal and balance. We have less energy during these winter months. It is a time when our energy wants to go inward so honor this and give yourself the space to relax and restore.
Avoid dairy Products – dairy increases kapha, which manifests as mucous. If you are feeling congested then it is best to avoid all dairy so you don't add to this congestion.
Sip warm water – this will help you to flush your system as well as keep you warm throughout the day.
Eucalyptus Steams – in a large pot boil water with either eucalyptus leaves or add a few drops of eucalyptus oil once the water is steaming hot. Cover face with towel and bend over pot. Breath in the steam for several minutes. This should help clear up congestion.
Neti – Using a neti pot with salt water will help to flush out excess mucous from your nasal passages follow with breath of fire and alternate nostril breathing.
Ginger – This is one of the best remedies out there for cold because it combats the kapha and vata qualities out of balance. We suggest using fresh herbs such as ginger root, turmeric root, and cinnamon sticks if these are available to you. If not powdered can work as well.
Following an Ayurvedic routine can also help maximize wellness and also boost immunity to help ward off colds.
According to Ayurveda, each organ is at its highest functioning power during certain times. Reflect on different times in your day and utilize healing and balancing tools to bring clarity, routine, and ease mind this fall/winter season.

6-8 am Lunch (kapha) try gentle yoga, pranayama, or walking.
8-10am pancreas (kapha) have a breakfast, and allow digestion to occur.
10-12pm stomach (pitta) digest.
12-2pm heart (pitta) have a lunch and digest.
2-4pm spleen(vata) digest
4-6pm colon, kidneys, Bladder (vata) enjoy dinner
6-8pm lungs (kapha) walk outside.
8-12pm pancreas, small intestine, stomach (kapha+pitta) rest, digest, and sleep.
Adding simple things to your daily routine, such as practicing self abhyanga (warm sesame oil self massages). An hour before shower or any form of exercise. Eat a seasonal warm cooked meal on time. Avoid cold drinks and food during cold winter months.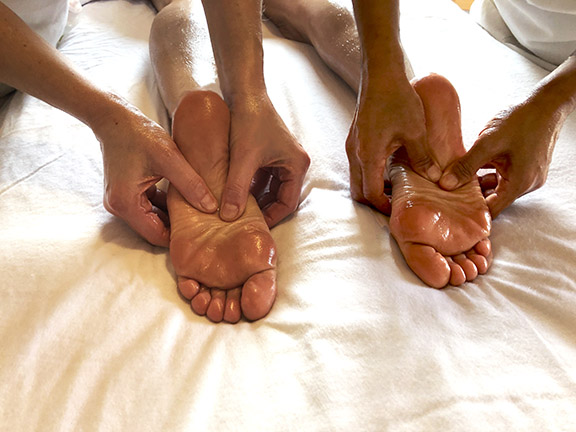 ---
Jalpa Patel (Jagadamba)
Jalpa Patel ("Jagadamba") is a knowledgeable Ayurveda Practitioner who is passionate about integrating Ayurveda and Yoga for health and healing. View courses with Jagadamba >