Sivananda Yoga Farm Blog
4 Paths of Yoga
The 4 yoga paths
For the integral development of body, mind and soul, yoga recommends combining the following four main practices:
Karma Yoga
Karma Yoga is the path of action and suits people with active temperaments. Performing actions selflessly – without thinking of success or reward – purifies the heart and reduces the ego. Karma Yoga is the best way to prepare oneself for silent meditation.
Bhakti Yoga
Bhakti Yoga is the yoga of devotion and is perfect for people who are emotional by nature. Through prayer, worship and ritual, one comes to see the Divine as the embodiment of love. Chanting mantras is an essential part of Bhakti Yoga.
Universal Prayer>>
Jnana Yoga
Jnana Yoga is the yoga of wisdom or knowledge is most suitable for intellectual people. The philosophy of Vedanta teaches analytical self-enquiry into one's own true nature, with the goal of recognising the Supreme Self in oneself and in all beings.
Raja Yoga
Raja Yoga is the science of controlling body and mind. The asanas (body postures) and pranayamas (breathing exercises) from Hatha Yoga are an integral part of this yoga path. The main practice of Raja Yoga is silent meditation, where bodily and mental energies are gradually transformed into spiritual energy.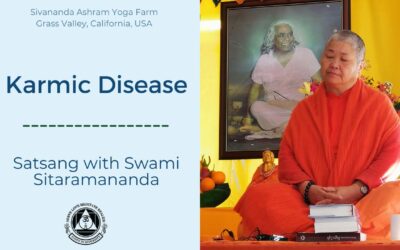 Today we have a very serious topic, the topic of Karmic Disease. So, you know, people have diseases and sometimes it's not explainable. We don't understand why they have the diseases. So, first you need to understand the meaning of the word karma. Karma means simply the universal law of cause and effect, action and reaction. The word Karma means action, and karma applies to physical action, but also to mental action. I mean, you don't do anything, but you think about it. And when you think about it, you create the mental karma, and the reason why we are born in this particular condition is because of our karma. So, there is no accident that we are born in a certain family in certain circumstances, a certain country and our life goes a certain way.
read more
Follow us
[et_social_follow icon_style="slide" icon_shape="rounded" icons_location="top" col_number="2″ counts="true" counts_num="0″ outer_color="dark"]
Subscribe to the Yoga Farm Newsletter for regular updates, articles, and upcoming events.