10 Reasons to Take a
Permaculture Design Course
"Permaculture is a creative and artful way of designing our lives, where wastes become resources, productivity and yields increase, work is minimized, people and nature are preserved – all by thoughtful planning and a respectful approach to life.  Thus embraced, we create an environment where all may thrive for untold generations."
– Bill Wilson
Every single person on this planet can benefit from learning about permaculture and applying it in their lives and communities. Permaculture practitioners are greatly needed in the world today because they are directly solving global issues such as social inequity, soil infertility, climate change, water and food shortages.  
A Permaculture Design Certification (PDC) course is a wonderful way to train how to be a practitioner of permaculture. A PDC is designed for students to deepen their your learning and to gain practical skills. It is a 72-hour or longer training that provides an internationally recognized certificate.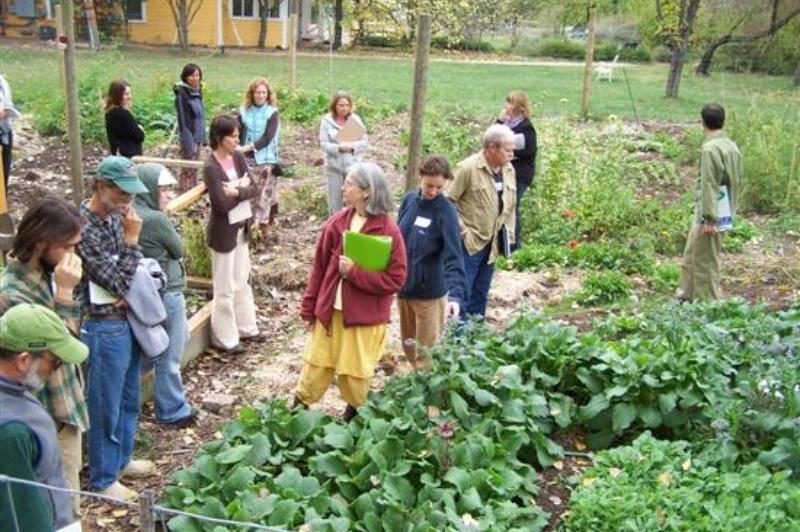 A permaculture design course learning hands-on in the garden at the Sivananda Yoga Farm.
Any PDC will offer a formalized educational opportunity and an internationally recognized certificate. Below are 10 reasons to take a PDC in general. After that, there are 5 things that set the PDC offered at the Yoga Farm apart from other courses.
1. It helps you become an effective designer to solve real-world problems
Permaculture Design Courses offer a simple yet effective model for design. They offer a structure and method to fall back on when designing to address the challenges of our time. For example, this video series shows how permaculture designers have addressed challenges such as water shortage.
2. It w

ill change the way you see the world
PDC students learn how to read social systems and landscapes in ways that see challenges as opportunities. Students learn how to assess hydrology, landforms, climate, sun exposure and more, which will help them determine the parameters for effective sustainable design.
3. It will give you practical knowledge and experience
A permaculture design certification is like a kickstart on the permaculture path. It goes deep into permaculture design methods. It is also a great life experience and can also serve as a good resume builder.
A PDC student observes a flower in the Yoga Farm's permaculture garden.
4. It can enrich your career path
There are so many aspects of permaculture that can be persued. The permaculture career path is like a tree,  with each branch presenting opportunities for income and right livelihood. 
Many PDC graduates end up working in environmental restoration, community projects, organic farms or homesteads. People who already have jobs can benefit from applying their permaculture knowledge to increase efficiency and find more meaning in their work.
5. Provides a constructive outlet for creative passions
Permaculture designs are not only functional; they are beautiful. Whether you are designing a community garden or sustainable home, there is lots of room for creativity and aesthetics in any permaculture design.
6. It teaches you how to foster positive relationships with communities and the natural world
As Jono Neiger sums up in his book The Permaculture Promise, "Permaculture is about rebuilding much needed relationships with the people, land and systems that support us." Permaculture is all about positive relationship. A PDC teaches you how to live in positive interactions with nature and fellow humans in your life.
"Permaculture is about rebuilding much needed relationships with the people, land and systems that support us."
– Jono Neiger
7. You will meet people who have similar interests
Most students who end up taking a PDC are there because they are interested in and passionate about similar interests such as organic gardening, community resilience, nature connectedness, environmental activism, alternative economies, experiential education… the list goes on. Taking a PDC is a great way to meet like-minded individuals and build your network of changemakers.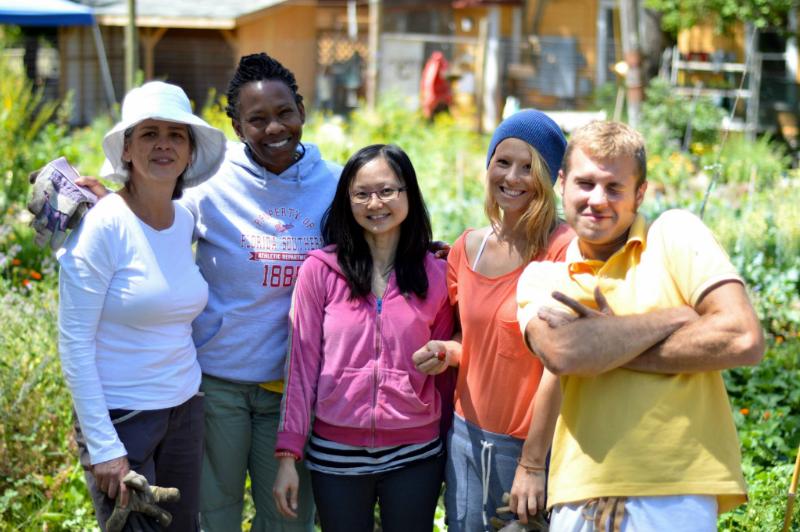 Students have fun in the permaculture garden at the Yoga Farm.
8. It is fun
Permaculture Design Courses are packed full of engaging learning activities and interactions that are both stimulating and nourishing to our sense of awe and wonder.
9. It is inspiring
In the course content you learn a lot about people and projects that are doing really, really inspiring work. Many students leave PDCs feeling motivated with a renewed sense of purpose in life.
10. The world needs more permaculture designers!
A PDC shows you ways to leave the earth better than you found it, and that is something that the world really needs right now.
A permaculture designer tends to the garden.
5 Reasons to Take the Yoga Farm PDC
Permaculture design courses at the Sivananda Ashram Yoga Farm in the beautiful countryside of Grass Valley, California are life-changing. Our PDC offers a synthensis between Yoga life and Permaculture that is truly powerful and inspiring.
1. Classical yoga from an ancient lineage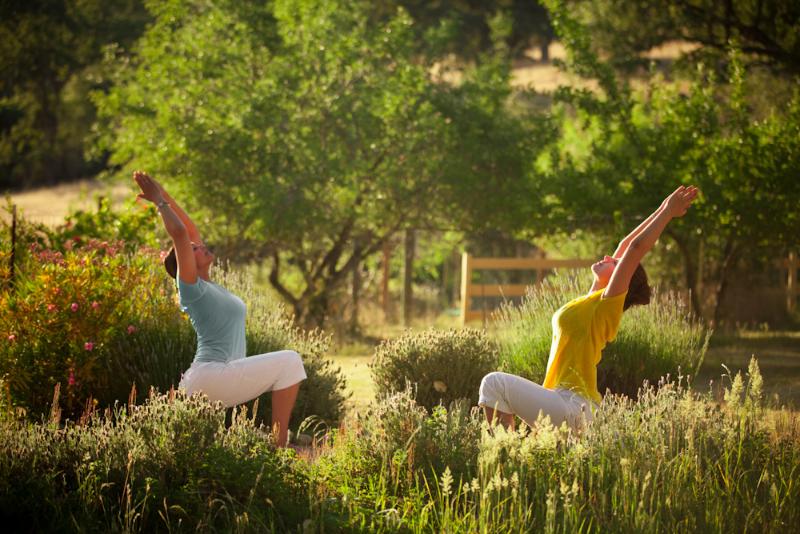 Daily Yoga Classes are an integral part of our Permaculture Design Course.
Two delicious, organic, vegetarian meals are served daily. The Ashram diet is Sattvic, or pure, which means that the food is prepared using only high-quality ingredients meant to awaken and calm the body and mind.
The meals are also prepared using Ayurvedic herbs and spices. Ayurveda is a sister science of Yoga which addresses healthy living, diet and herbal medicine. Vegan and gluten free options are also offered, along with an Ayurvedic tea served at each meal for digestion and a happy belly 🙂
3. Hands-on experience
Not all PDCs offer hands-on experience. At the Yoga Farm, PDC students get to learn outdoors in nature. The instructors teach outside on our grounds which include a garden, orchards and lavender fields.
4. Taught by experienced practitioners
Lydia Neilsen and Spencer Nielsen teach the Permaculture Design Course at the Sivananda Ashram Yoga Farm. They are both seasoned teachers and practitioners at the Regenerative Design Institute, a renowned permaculture education center in California. Lydia has over 20 years and Spencer has over 10 years of experience in permaculture design.
5. Pristine natural environment and close by attractions
The Sivananda Ashram Yoga Farm is situated in a Blue Oak Woodland, which is a beautiful ecosystem in the rolling foothills of the Sierra Nevada mountain range. Nearby to the Ashram are a multitude of popular hiking and swimming spots, such as the Yuba River and Beale Falls (A.K.A. Fairy Falls). The Yoga Farm is only one hour from the California capital of Sacramento and just two hours from the majestic Lake Tahoe.
Permaculture education is a profound life-changing endeavor that offers a plethora of opportunities for service of Mother Earth and all of her creatures. Yoga supports us in bettering ourselves and serving the world in positive ways.
Together, Yoga and Permaculture are both transformative practices which are utilized for benefit of all beings. We hope you will soon experience that transformation for yourself.
Whether you choose to take a PDC at the Yoga Farm or with another institution, we hope you will deepen your permaculture learning journey.